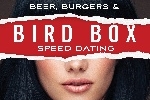 Date:
February 13, 2019 to February 13, 2019
Where:
Lager Heads, 3004 Atlantic Ave, Virginia Beach, VA, United States, 23451
In search of a Valentine?! Look no further! Join us for Beer, Burgers and Bird Box Speed Dating! From 6pm-10pm on Wednesday, February 13th, you can speed date blind folded, while enjoying the best burgers and beer on the boardwalk! Bring a friend, speed dating starts at 7:30pm!